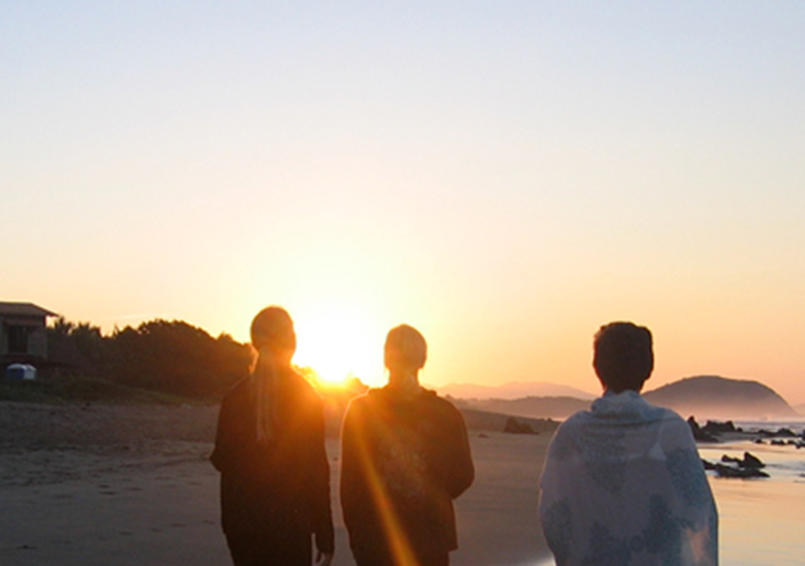 What To Expect in Yoga Teacher Training: Student Testimonial

Before putting down my deposit for Marianne Wells 200-hour yoga teacher training, I spent two years researching different yoga schools across the globe.
I asked newly certified teachers what their process had been like, read blog testimonials and endless articles on the Internet. I sent e-mails to instructors and compared notes with like-minded friends on what they were looking for in a training. The biggest question I had was, "What should I expect?"
I suspect that if you're reading this, you can empathize with my overwhelmed feelings on the matter.
Now that I've completed my 200-hour teaching training with Marianne and am in the process of registering with the Yoga Alliance, I know exactly what to expect from yoga teacher training—from my personal experience. Because that's exactly what you'll get out of this training with Marianne, whatever you put into it.
The first time Marianne touched my spine, I cried. Not tears of pain, but tears of joy. Despite a long commitment to yoga, my back had never properly been in alignment. A stream of yoga teachers had missed what Marianne noticed in two minutes: a stuck thoracic spine. Unfortunately, when Marianne took her hands off my back, I slumped right back into bad posture. Fortunately, Marianne gave me the tools I needed to work on my back so that by the end of the two week training I walked with the lightness of a ballet dancer, shoulders open, smile on my face.
Marianne and her dedicated staff will bring you there. They'll give you yoga therapy, the space and time to commit to a myriad of practices, the luxury of someone else making your bed and cooking healthy meals, meditative walks on a black sand beach, long discussions on mindfulness, funny anecdotes from years of teaching experience, and encouragement to go further when it's safe. What Marianne won't do is the work for you. You will have to learn about the curve of your spine before you can teach the person next to you about theirs. You will have to stand up and teach a class. You will have to step out of your comfort zone and commit to becoming a yoga teacher. It won't always be easy, but Marianne will make it fun.
Costa Rica is an idyllic place to submerge in a natural, healthy lifestyle. The soundtrack of the jungle is the deep call of howler monkeys, leaves rustling in the wind, and waves breaking on the beach. Deep shades of green, bright tropical flowers, and a cast of tree sloths, vividly colored frogs, and soaring toucans make daily appearances. This is a place where you can go deep, far from the stress and distraction of your daily life. Costa Rica is one of those places where it's easy to be happy.
The alignment of my spine felt like a yoga miracle that changed the entire way I practice and see myself, something that will profoundly impact the way I teach yoga. Others in my training group had similar breakthroughs, both personal and spiritual. I think that at the end of training, each student felt ready to get back to their lives and start teaching yoga, wherever and however it felt best to them.
Now that I'm the one fielding questions about what to expect in yoga teacher training I can tell you that you'll study traditional yoga readings, cuing techniques, safety techniques, proper use of props, alignment, anatomy, yoga history, and the study of sacred yoga sutras. You'll eat delicious healthy meals and drink freshly squeezed tropical juice. You may cry but you'll definitely laugh. Somedays you'll be sore and tired, maybe with a little tummy trouble, but most of the time you'll feel energized and excited. You may get frustrated about your body's limitations but you'll probably go deeper into a posture than you could before. Marianne is always there watching and processing. She knows when the group needs sunshine by the pool or a day of inversions; she has a natural intuition honed from a lifetime of yoga and teaching. Like Marianne says, "It all comes out on the mat."
After training, Marianne will stay in touch and offer support whether you want her to "Like" your yoga studio's Facebook page or recommend a prenatal teacher's workshop to take. She'll be there for your 500-hour teacher training or to answer a question about sequencing your very first class. If you want her to, Marianne will change your life.
That's what you can expect from yoga teacher training with Marianne Wells.
By M.L. Wood