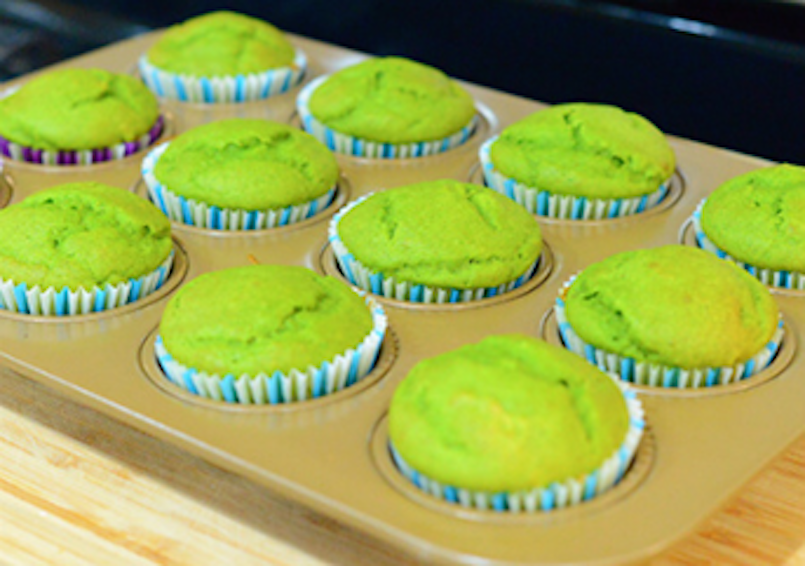 Cooking with Kids: Marianne's Healthy Green Muffins

In honor of this festive St. Patrick's Day, and to celebrate the sprouting of Spring, I would like to share one of my favorite recipes with you.
This easy muffin recipe is a family favorite around my house! When my children were young we would make three batches a week. Now, my daughter makes them with her boys. And being growing boys, the muffins don't last long!
I feel that spending time together in the kitchen is so special. Kids love to cook and being a part of the process helps them learn healthy habits at a young age. The bright green is always a hit with the kids, and the magical green ingredient is a hit with the parents. Light, delicious, and healthy, they will soon become a favorite of your family, too.
Step #1
Preheat oven to 350 degrees.
Line a 12 cup muffin tin with paper liners.
Step #2
In a large bowl whisk together:
2 cups whole wheat flour or spelt flour
2 teaspoons baking powder
½ teaspoon baking soda
½ teaspoon salt
Step #3
In a blender process until pureed:
1 large egg
¾ cup real maple syrup
¾ cup almond milk
¼ cup coconut oil
1 tablespoon real vanilla extract
4 good handfuls of fresh spinach
Step #4
Mash 2 medium in size ripe bananas.
Step #5
Mix the spinach together with the dry ingredients until combined.
Fold in the mashed bananas.
Step #6
Scoop batter into prepared muffin tin, filling cups ¾ full.
Bake about 25 minutes, or until toothpick inserted into the center comes out clean.
Cool and enjoy!